Innovative Houses, Affordable Houses
A revolutionary assembling technique
The most accurate use of space
An house at an unbeatable quality price ratio
The most energy and thermal efficient materials
Ecade is an integrated system for the construction of public and residential buildings using innovative methods and materials that greatly speed up all stages, from planning to in-site construction.
From planning to the use of materials, the process technology permits top of the range quality and comfort comparable to that of EU class A buildings at absolutely competitive cost with industrial process efficiency.
Ecade system relies on three fundamental principles:
• Lean Construction (Lean concept applied to buildings)
• Integrated Supply Chain
• Ecade Construction System
Ecade system is not merely a technological solution, it must be intended as as part of an
indivisible whole of management scheme in which methods, business techniques and
materials technology interact together to give a proper answer to communities's needs.
The integration of and application to the Ecade system of process methods typical of the
manufacturing industry provide industrial type efficiency throughout the phases in which
value is formed, and therefore considerable savings in terms of resources and time.
The patented ECADE construction system
Many styles and sizes
INCREMENT YOUR HOME OVER TIME,
INCREMENT YOUR HAPPINESS.
Standard and multiple homes
People can't always afford to have a house with the suitable space at once. Thanks to Ecade's modular building features, we can allow the Naidoo's, a typical South African family, to start with a small unit and to increment their home over time. The Naidoo's, using the same construction methods and the same materials, can meet their evolving needs by expanding their space when it's needed and whenever they wish.
History of Naidoo' s family home · Cape Town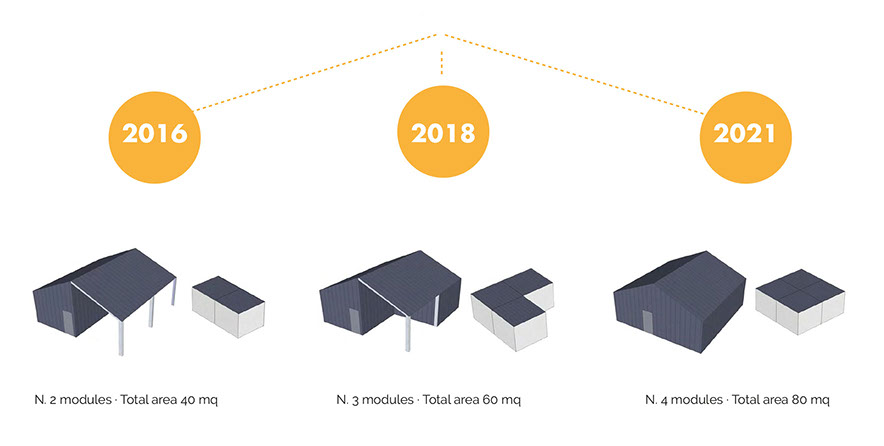 Ecade was established to combine the extensive experience gained by founders in the cold processing of
steel and in the structural steel work with an innovative technology aimed at developing a complete building
system based on the use of composite steel/concrete sections.
The company developing an industrialized building process, makes the best use of the lean construction
methods and of the integrated supply chain technology.
Our design solutions are used in residential, industrial and public service buildings.
Ecade s.r.l
P. IVA 04173820269
Via Donatori di sangue, 20
31029 - Vittorio Veneto (TV)
ITALY
+39 348 260849
+27 (0) 84 358 9742